If you are planning a trip soon, whether it is camping in the wilderness, flying some place exotic to enjoy the beach, or to visit family for a few days, never leave home without your CPAP machine. Obstructive sleep apnea (OSA) must be treated continuously, just like high blood pressure. If you decide to go without your CPAP machine, even if only for a night or two, your symptoms will reoccur. Some insurance companies even have a minimum usage requirement for the user to get reimbursed. So, here are some tips for taking your CPAP with you when you travel.
Packing your device does not mean you have to sacrifice other items if you are flying. CPAP machines are considered "medical devices," so if you are planning to travel by air, the airline is not allowed to count your CPAP machine as a carry on item. You should even mark your CPAP machine as a medical device, to lessen the hassle of the security screening.
Many modern CPAP machines are compact and lightweight, making it even easier to travel with you. If you plan on using your CPAP while in flight, be sure to contact the FAA ahead of time regarding possible policies for in-flight usage, and to determine the location of any plugins you may need. Also, you may need to speak with the manufacturer of your CPAP regarding how to adjust your CPAP machine to account for changes in altitude.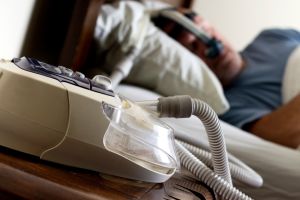 If you plan on staying in a hotel during your time away, be sure to contact the hotel ahead of time to ensure there is a plugin close to the bed. If not, you may want to pack an extension cord as a simple solution. If you are considering staying outdoors or will not have access to electricity, consider a battery-powered CPAP machine. Transcend Travel CPAP machine and Z1 Travel CPAP machine are popular among outdoors enthusiasts. Although a bit on the pricey side, both units can be recharged with solar power. For a less expensive option, consider a CPAP machine that can be recharged using a lighter socket inside a vehicle, boat, or RV. As a safety precaution, it is not advised that you use your CPAP machine in temperatures below 55 degrees, as this could cause CPAP-related hypothermia, causing your body to maintain an unsafe temperature.
Oral dental devices are also a popular choice for travelers because you do not have the hassle of additional cords, the extra cost of a battery-powered machine, or the worry of safety with outside temperatures. You can continue treating your OSA while traveling, completely hassle-free, with an oral appliance. Contact your dentist if you are interested in an oral dental device to treat your OSA while traveling.